Portable radios are cool. Most of my experience with portable radios is old pawn-shop purchases, buying some old Radio Shack model that has a dial that can't quite find the AM stations I'm trying to listen to.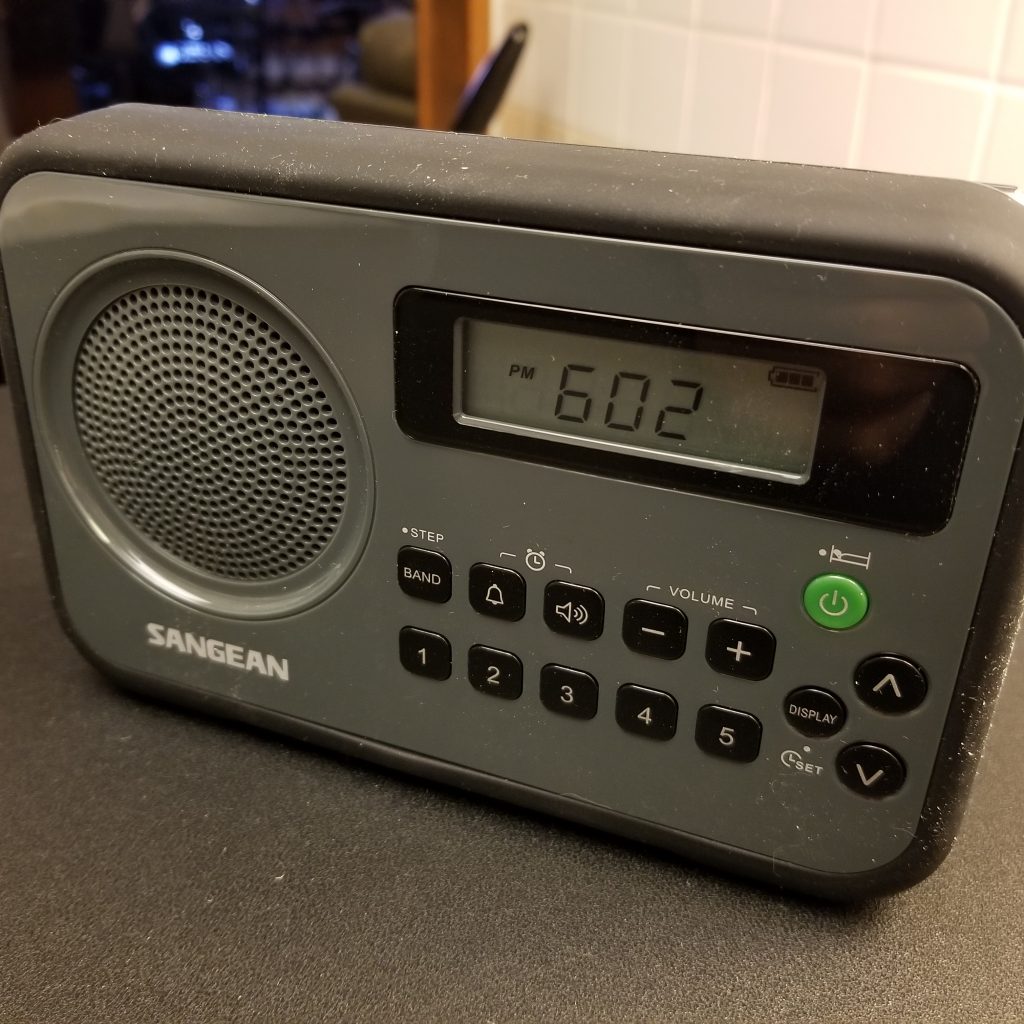 The Sangean PR-D18BK portable AM/FM radio showed me that there's much better modern options out there. I love this little radio. It's simple and it just works – and it sounds great.
Features That I Like:
Orange back-lit display
An accurate digital tuner
Built in clock and alarm
It's battery operated, with the option to use an AC adapter
Can save 5 presets per band
Has a scan feature to find stations
Has a long antenna
Digital Tuner
The biggest thing I like about this little radio is the digital tuner. It's accurate and it dials in my favorite stations perfectly. Nothing bothers me more than sitting and fiddling with a tuner knob, trying to get a station to come in just right. I'm not sure why I put up with radios like that for so long in my life.
Ease of Use
I didn't even have to read the manual, I found it easy to guess at how to work the features on this radio. To me, that is pretty good product design. Granted, it's not a complicated radio, but I've used too many confusing electronics lately that don't seem to be made to be easy to use, and I appreciated the simplistic, logical approach to how this radio is designed.
Sound
There is one speaker on this radio, and it can get pretty loud. You're not going to get any bass out of this thing, but the sound is not thin either. To me, the speaker is perfect for listening to AM radio, and it's sufficient for FM music stations when I use it for that. I usually have the sound level on 5 or 6, and it goes much higher than that.
Durability
This radio is built pretty well. It's plastic, but it doesn't feel cheap. The outer shell has a rubbery bumper type of cover on the edges, which I'm assuming is to help ward of bumps and scratches. I've carried this radio around in luggage and in my backpack, as well as dropped it accidentally a few times and it hasn't broken on me yet, so I'm happy with the durability.
Battery Life
I haven't worked out exactly how long the batteries last yet. But they last longer than I would expect them too. The only time I've noticed significant battery drainage is when I leave it on for 24 hours straight, The nice thing is that you can get an optional power adapter so that you can plug it into the wall.
Clock, Alarm and Sleep Timer
These features have worked well for me, and they work as you would expect them to. When I changed batteries the first time, I thought maybe I'd have to reset the clock and my presets, but the radio remembered all those settings even through a batter change, which was refreshing.
The clock is accurate, and it doesn't seem to get off sync.
The alarm is simple to set up and can either use an alarm sound or just turn on the radio, which I prefer.
There is also a sleep timer, which has the option to go up to a 120 minute sleep timer. This is pretty awesome, I like the longer sleep timer option. I've had too many devices that only go up to 90 minutes with the sleep timer and I've always found that too short.
Power Adapter
This is one of my negatives actually – that you have to buy a separate power adapter. I would have been happier if one would have been included. However, I can see how having the option is nice, as many people would likely only use this with batteries and have no need for the power adapter.
Where to Buy
I bought my Sangean portable radio from Amazon for less than $50. They have pretty good deals there. You can also pick from several color options.
I bought the black/gray one, myself. Don't forget the power adapter as well if you want to be able to plug it into the wall.