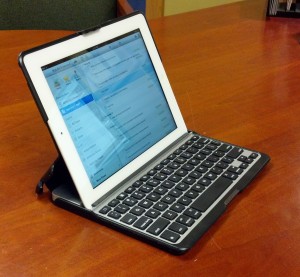 If you are reading this, I assume you are probably looking deeper into what sort of case or keyboard might work best for your iPad.
I was in the same boat after I bought my iPad 3. I liked the iPad when I first bought it, but without any sort of a keyboard the iPad is hard to use when you have to do a lot of typing. On top of that, I needed a case, you know, in case I dropped it or something.
So I happened to run across the ZAGGfolio Keyboard Case when I was out looking.
I've been using it for about 7 months now, daily, so I can provide some pretty good insight on this thing.
My short verdict: It's worth the money.
That doesn't mean it's perfect, or the best keyboard case, but I definitely feel like I got my money's worth.
Let's get into the details.
The Case Itself
The case is made out of plastic, with some sort of covering that looks like carbon fiber, even though it's not. It's sturdy plastic though. I've dropped this thing a couple times and carried it in my backpack and to a lot of meetings, and it's held up well. None of the plastic pieces have broken off of it. The latch still works great.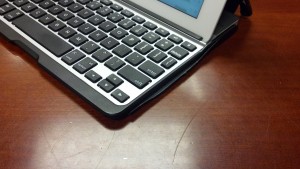 My only complaint about the case itself is that the carbon fiber covering is starting to come off on one side. It's kind of annoying, but doesn't affect the case or protection capabilities.
The Keyboard
I usually don't like smaller, non-standard keyboards, but this one works pretty well for me. I can type well with it.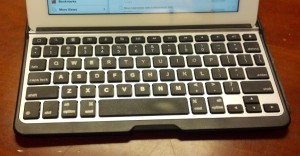 I don't know if it's just because I'm comparing it to typing on a touchscreen more than typing on a standard PC keyboard, but either way, I can type well on this keyboard.
There are keys for special controls on the iPad such as volume controls, play controls for music, searching, and copying/pasting.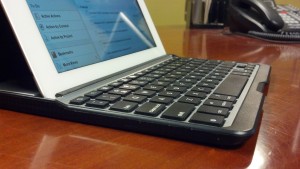 If you leave the keyboard switched "on" all the time, it will need to activate the Bluetooth connection if you let it sit for a while and then start typing again. This small delay isn't a big issue, but can kind of annoying. But this is the same way with any Bluetooth keyboard or device.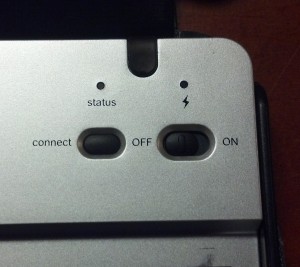 The keyboard also has buttons for turning the keyboard on/off and for reconnecting the Bluetooth. There is also indicator lights for power and connection status.
Usually, when I want to type with the keyboard, I'll just hit one of the keys, wait about 3 seconds for the Bluetooth to reactivate, then start typing.
The keyboard will also automatically launch the pass code screen if your iPad has a four-digit pass code enabled. This is nice, in my opinion, that you can basically turn on and log into your iPad only by using the keyboard.
Battery Life
The keyboard is powered by an internal battery, it can be charged via a USB adapter that comes with this keyboard.
Want to hear something amazing? I've only charged the keyboard once, when I first got this thing. I did a full charge with the USB cable and haven't had to charge it since. I think it's been about 7 months of use on a single charge. I find that pretty amazing.
It's like that Timex alarm clock I have been using since 1996 that still has the original 9 volt battery in it – the same alarm clock I've woke up to every day for the last two decades almost. But that is a story for another day.
Build Quality
As I mentioned earlier, this case is built pretty well. The cover is starting to peel off on one side, but the plastic has held up great. I live in Fargo, North Dakota, and took this case outside to a lot of meetings through sub zero temps and even with the extreme cold the plastic has not cracked or broken.
The keyboard quality is very nice as well. All keys still work. Everything still works, there is just some normal wear on the keys from lots of typing.
Cost
I payed about a hundred bucks for this case. That was the most I've ever spent on a case for anything, laptop or tablet. It was worth it. I've got my money's worth.
Would I Recommend?
Yes. If you are looking for a case/keyboard combo for your iPad, it's hard to go wrong with this one.
For more info and reviews from other people, or to check pricing or buy, I recommend Amazon.
Here are a couple links for both this case and a newer version that ZAGG has released:
The one I reviewed: ZAGGfolio for iPad