I've always carried a mobile office with me, in a laptop bag, due to the nature of my work. I have found this to be awkward. I didn't like using laptop bags due to how they were designed. I always felt like I was unpacking my laptop bags just to use them, or leaning them on walls or finding someplace to hang them when in use, which never felt less than awkward.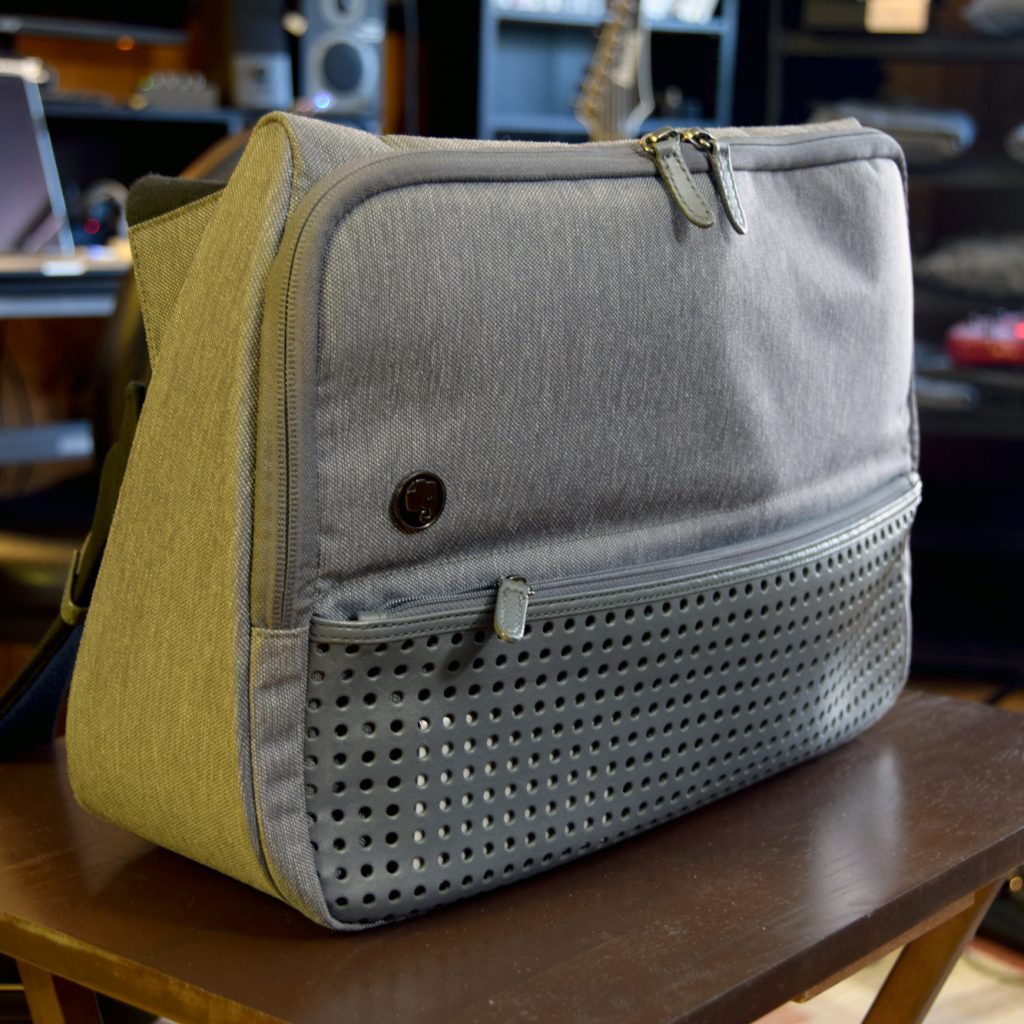 So, when I saw the Evernote Triangle Commuter Bag, the design of the whole thing just made sense to me. It is designed to stand upright on the desk, and almost act as an organizer of sorts, when you have it open. It also is designed to be a handy shoulder bag for carrying a laptop or other office-type gear. This type of functionality difference from a simple laptop bag might not seem like a deal breaker, but now that I've used it for a couple years I couldn't use anything else now.
I've been using mine daily since I bought it in April of 2015, so I've got some good experience with this bag at this point.
Why do I like the Evernote Triangle Bag?
This bag is super slick to use, and it actually feels well-designed. I've used many different laptop bags and backpacks over the years, and this is by far the best I've used for my needs.
Convenience
If I'm working in a coffee shop or restaurant, it's easy to set the bag on the table with me, flip down the front, pull out what I need to work and get to it. I can leave the bag on the table, with a small footprint as it sits vertically.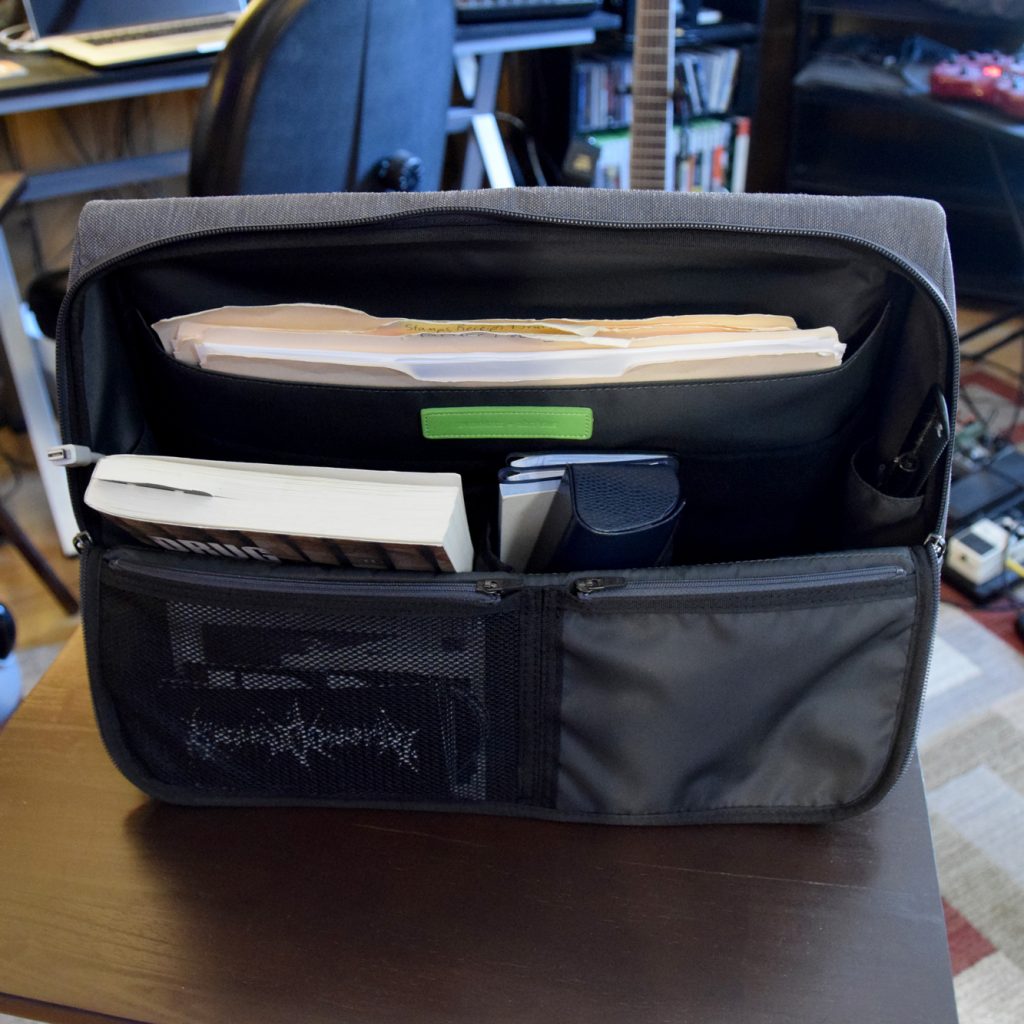 And it's easy to grab anything else out of the bag while I'm working. I don't need to place the bag out of sight or lean it against the wall on the floor, which makes me feel more comfortable about avoiding accidents or theft. I really like that convenience, it's important to me.
It's Different, In A Good Way
I also have people comment on how awesome the bag is when I've got it with me in meetings, so I know people have noticed how differently this bag functions from most other laptop bags. Personally, I've not seen a similarly design bag to the Evernote Triangle Bag, but there must be some out there.
Well Built
The construction of this bag is very high quality. The materials are thick and high quality, the seams are strong, the zippers are high quality. There isn't anything on this bag that feels cheap, compared to other laptop bags I've used.
I've used this bag every day for at least two years and it's still in pretty good condition. The materials have held up well. There is no fraying of cloth, no seams have come loose, no zippers have broken. Everything still works as good as when I got it and still it holding together like a new bag.
Sturdiness Complaints
The only complaint I have about construction is the sturdiness of the shape of the bag. It's hard to explain without seeing it in person, but the bag starts to kind of "crumple" after a while. Look at my photos. The bag is still sturdy, but it's not holding it true shape very well. The strain that the shoulder strap puts on the top corners of the bag when carrying it will cause the top to crumple after a while, and the bag will lose it's clean "triangle" shape.
I added a modification to help keep my bag sturdy and holding it's shape, which has been helping quite a bit. I simply inserted a dowel rod, cut to size, in the top part of the interior of the bag to hold the top rigid, which helps to stabilize the entire bag.
In the photos below, you will see the wooden dowel which is cut to the same width as the interior top of the bag. I then sanded the ends to make it smooth, so it wouldn't damage the bag materials. I inserted the wooden dowel into the top interior of the bag. The top is much more rigid now and holds it's shape. I am also planning on sewing the dowel into place once I figure out the best way to do so.
In my opinion, the manufacturer should have had some sort of similar stabilizing bar or something to keep the bag from crumpling. Maybe they'll read this and make modifications for future bags.
For me, the positives of the bag far outweigh the negatives. It just bothers me to see my $200 laptop bag start to collapse and lose it's shape.
I've Traveled With It
I've used this as a carry-on bag while flying, and it worked great. I was able to fit my 13 inch Macbook, a book, my camera with big zoom lens, my headphones, chargers and some other stuff into this bag, which surprised me. Even with all this stuff packed in, the bag didn't take up hardly any room on the airplane and I was able to store it under the seat in front of me during flight instead of putting it in the overhead compartments.
I've also taken this bag with me on countless road trips, and it's always been good to know that I've got my "office" with me in a small bag in the back seat.
The Best Features
The features of the bag that I like the most are:
Ability to stand on a surface with a small footprint
Ability to carry a surprising amount of stuff for it's size
Well design pocket placement for interior
Adjustable dividers for main storage area
High quality construction and materials
Worth the Money?
It's hard for me to say if this bag is worth $200 for everybody.
It is worth the money for me, and I have found the money to be well spent. For $200 I have had daily, convenient use out of this bag for over two years, and the bag feels like it'll last another decade. For me, that's money well spent.
Where to Buy?
I think you have to buy it straight from Evernote, I've never found it anywhere else. Unfortunately, Evernote does not sell this bag anymore. The bag I have was made by a company called Abrasus for Evernote.
A Similar Triangle Commuter Bag:
Even though I can't find the Evernote Triangle Commuter Bag for sale anywhere, I think I have found a clone or maybe even the same thing made by a different manufacturer. I can't tell for sure, but I at least wanted to point you in the right direction if you are looking for a triangle commuter bag like this.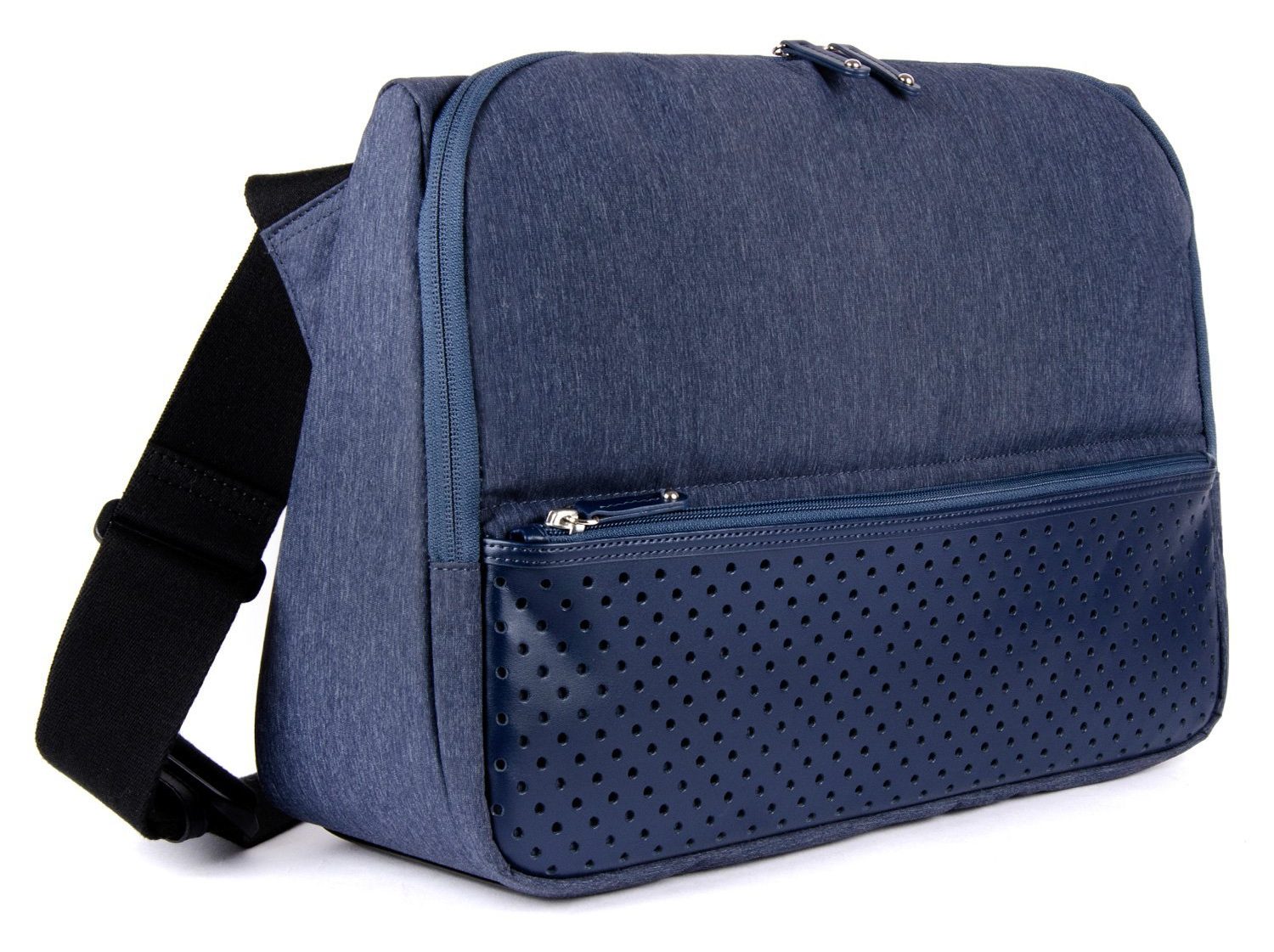 This bag has some differences from the one I own. It has strap to attach to a luggage carrier on the back, the zipper pulls look a little different than mine, and on the inside, the pockets on the fold-down flap look like they can be velcro attached or removed completely. These are minor differences from my Evernote bag.