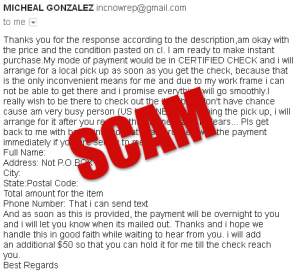 Selling on Craigslist has taught me one thing:
There's lots of scammers out there.
I haven't fallen for any scams while selling yet, and I think it's because I stick to a couple pretty solid rules:
Only sell locally, don't mail anything unless you can be absolutely sure that you absolutely know and trust the buyer personally.
When selling, make the buyer meet you and pay in cash.
Meet in a public place that you as the seller dictates – do not meet at your home.
Don't accept any form of payment except for cash. This is debatable, but sticking to my guns on this has helped me a lot.
If a buyer won't talk to you on the phone, that is pretty suspicious. For that reason, it can help to only post your phone number on listings rather than an email address.
Also, if you post anything for sale on Craigslist, you'll probably get one or more of these:
Thanks you for the response according to the description,am okay with
the price and the condition pasted on cl. I am ready to make instant
purchase.My mode of payment would be in CERTIFIED CHECK and i will
arrange for a local pick up as soon as you get the check, because that
is the only inconvenient means for me and due to my work frame i can
not be able to get there and i promise everything will go smoothly.I
really wish to be there to check out the item but i don't have chance
cause am very busy person (US MARINE). Concerning the pick up, i will
arrange for it after you receive the payment and it clears… Pls get
back to me with below info so that i can proceed with the payment
immediately if you are selling to me.
Full Name:
Address: Not P.O.BOX
City:
State:Postal Code:
Total amount for the item
Phone Number: That i can send text
And as soon as this is provided, the payment will be overnight to you
and i will let you know when its mailed out. Thanks and i hope we
handle this in good faith while waiting to hear from you. i will add
an additional $50 so that you can hold it for me till the check reach
you.
Best Regards
This was sent from some guy claiming to be named Micheal Gonzalez with an email address of [email protected].
I get one or more of these for nearly anything I post on Craiglist for sale that is worth over $100.
When I first got messages like that, I would reply with only my phone number and tell them to call. They would never call. Then I wised up and now scam messages are pretty obvious.
A couple things to notice about that message:
They don't mention the product I'm selling, their product reference is very ambiguous
They mention they are too busy to meet in person but can send somebody else
They offer extra money
Even though they want my address and contact info, they don't offer up any sort of address or contact info for themselves
In addition, a bank will often cash the cashiers check initially but then soon after you will be contacted by the bank once the find out the check didn't really clear and is a fake.
If you're going to sell on Craigslist, be careful, scammers are going after sellers as well as buyers.